Toyota 1NZ-FE/FXE 1.5L Engine Specs, Problems, Reliability. The Toyota NZ family is a series of small-displacement gasoline engines that were first presented in 1997. The 1NZ-FE is a 1.5-liter four-cylinder gasoline engine, a standard Otto cycle version of the 1NZ-FXE used in the XW10 Prius. This little 1.5 L engine was utilized in a huge variety of vehicles – Toyota Yaris/Echo, Toyota Auris, Toyota Probox, Scion xB, and other compact sedans, hatchbacks produced by Toyota and mainly offered in Japan and Asian nations. The NZ family also has a smaller variation – 1.3-liter 2NZ-FE.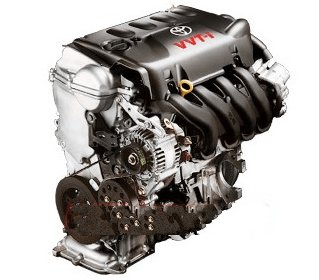 The 1NZ-FE has an aluminum alloy "open deck" cylinder block with thin-walled, spiny type cast-iron liners. The distance between the bores is 8 mm. The engine block style includes an offset crankshaft by 12 mm towards the intake side relative to the cylinder bore centerline. The created steel crankshaft had four balance weights, five journals, and an incorporated crankshaft position sensing unit. The 1NZ engine is equipped with created steel linking rods and light-weight aluminum alloy pistons with semi-floating type piston pins, low-tension rings, and a friction-reducing polymer finishing (LFA – Low Friction Resin with Alumina).
The cylinder head is made from aluminum alloy and has 4 valves per cylinder. Each cylinder has 2 intake and 2 exhaust valves. The intake valve diameter is 30.5 mm and the exhaust – 25.5 mm. The valve stem size for both valve types is 5.0 mm. The engine has double overhead camshafts (DOHC) which driven by a roller timing chain (8.0 mm pitch, single-row). The consumption is equipped with the VVT-i system (variable valve timing). The valvetrain has shimless, strong valve lifters/tappets (the valve clearance change is needed by changing a set of tappets).
Toyota 1NZ-FE/FXE 1.5L Engine Specs, Problems, Reliability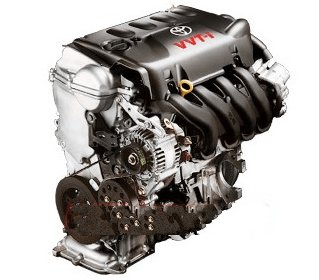 The 1NZ has a standard multipoint, sequential fuel injection. It utilizes injectors with multi-hole nozzles (12 holes) and operates with the fuel pressure about 325 kPa. To lower the weight and heating of the intake air, the consumption manifold is made from plastic. Until 2005, there war a mechanical throttle body, and after that, considering that the start of 2005, the engine was geared up with a fully electronically managed throttle valve (Toyota's ETCS). The engine has distributorless Direct Ignition System (Toyota's DIS) which includes an individual ignition coil for each cylinder and spark plugs with iridium center electrode.
In 2003, the 1NZ-FE engine was modified. The cylinder head got hydraulic lash adjusters and roller rockers for the valve system. The angle between consumption and exhaust valves was reduced from 33 to 21 degrees. The updated engine got brand-new pistons, new exhaust manifold, a new modified-construction three-way catalytic converter plus the second extra converter, EGR system, and iridium spark plugs with a long threaded portion.
The 1NZ-FXE Engine (1.5 EFI HYB)
1NZ-FXE is a version for Toyota's hybrid automobiles – Toyota Prius (XW10, XW20), Toyota Prius c, Yaris Hybrid, and etc. The 1NZ-FXE engine utilizes Atkinson Cycle, instead of a standard Otto cycle. This is achieved by keeping the consumption valves open throughout the preliminary stage of the compression stroke allowing a reverse circulation of consumption air into the consumption manifold. That means the decrease in cylinder charge and minimized torque and power output, however efficiency is increased. The compression ratio is very high for gasoline engine – 13.0:1. This engine variant has an aluminum consumption manifold fitted with a linkless-type throttle body – Toyota's ETCS-i. The ETCS-i likewise manages the IAC (Idle Air Control) system and cruise control. The ignition system is Toyota's Electronic Glow Advance (ESA).
In 2012, the manufacturer made some changes in the design of this engine, special for the upcoming Prius c, European Yaris Hybrid, and Prius Aqua for Japan market. An enhanced version includes a higher 13.4:1 compression ratio, water-cooled exhaust gas recirculation (EGR), a low-friction camera chain, cold intake, and belt-less operation of the water pump and a/c compressor. The stainless-steel exhaust manifold has an integrated catalytic converter and forms a one-piece exhaust system.
Toyota 1NZ-FE/FXE 1.5L Engine Problems and Reliability
Toyota's 1.5 L 1NZ engine is a typical contemporary engine. There are practically no problems with 1NZ-FE/FXE engines on mileages up to 100,000 miles. After that line, be prepared for high oil consumption, which normally increases throughout long trips with high rpm. Increased oil intake primarily takes place due to stuck piston rings or bad valve seals. At about the very same mileage, the timing chain is stretched out and begins to rattle, in addition to the VVT actuator starts producing some sound after cold starts.
Various oil leaks and oil sweating are common for the 1NZ engine. The weak point is a rear crankshaft oil seal, and leaks from under the chain cover or chain tensioner are not rare. In the early 2000s, cars with 1NZ engines took part in recall project due to risk of signal missing out on from the crankshaft position sensor triggered by oil leakage and its penetration inside the sensor adapter.
The next common problem is unsteady idle or, often, uncommonly low idle rpm. At the same time, sometimes it supplements by loss of power at middle rpm variety. Most often, an easy throttle cleansing helps. Often the concern is in PCV, maf-sensor, and iscv valve.
you must see more engine detail in here:  Engine – US Cars News or you can see on wiki here
Toyota 1NZ-FE/FXE 1.5L Engine Specs
Manufacturer
Kamigo Plant in Toyota, Aichi, Japan
Siam Toyota Manufacturing in Chonburi, Thailand
Indus Motor Company in Karachi, Pakistan
Production years
1997-present
Cylinder block material
Aluminum
Cylinder head material
Aluminum
Fuel type
Gasoline
Fuel system
Sequential multi-port fuel injection
Configuration
Inline
Number of cylinders
4
Valves per cylinder
4
Valvetrain layout
DOHC
Bore, mm
75.0 mm (2.95 in)
Stroke, mm
84.7 mm (3.33 in)
Displacement, cc
1,497 cc (91 cu in)
Type of internal combustion engine
Four-stroke, naturally aspirated
Compression Ratio
10.5:1 – 1NZ-FE;
13.0:1 – 1997-2011 1NZ-FXE;
13.4:1 – 2012+ 1NZ-FXE
Power, hp
109 hp (81 kW)/6,000 – 1NZ-FE
74-76 (55-57 kW)/4,800-5,000 – 1NZ-FXE
Torque, lb ft
104 lb-ft (141 Nm)/4,200 – 1NZ-FE
82-85 lb-ft (111-115 Nm)/3,600-4,400 – 1NZ-FXE
Engine weight
476 lbs (216 kg) – 1UR-FE;
511 lbs (232 kg) – 1UR-FSE
Firing order
1-3-4-2
Engine oil weight
SAE 5W-30
Engine oil capacity, liter
3.7 (3.9 qt) – service fill
0.2 (0.21 qt) – oil filter.
Oil change interval, mile
9,000 (15,000 km) / 12 months
Applications
Toyota Vios/Belta, Toyota Yaris/Echo, Toyota bB, Toyota Raum, Toyota Porte, Toyota Platz, Toyota Ist, Toyota Auris, Toyota Fun Cargo, Toyota Premio, Toyota Allion, Toyota Sienta, WiLL VS, Toyota Probox, Toyota Ractis, Toyota Corolla (Axio/Fielder, RunX, Allex), Toyota Prius, Toyota Prius c, Scion xA/ist, Scion xB, Geely CK, Geely MK, Great Wall C10