Mercedes M112 3.2L Engine Specs, Problems, Reliability. The M112 E32 V6 engine replaced inline 6-cylinder M104 E32 series on the production line in 1997. The new 112-series consists of the following engines: E24 M112, M112 E26, E28 M112, M112 E32 ML, and M112 E37.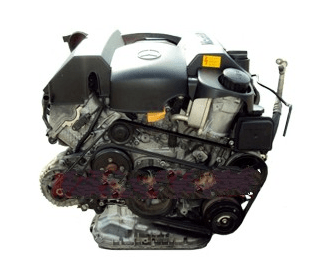 The engine is designed in V setup (the cylinder bank's angle is 90 degrees). That is allowed to unify primarily all essential parts of the V8 M113 engine. The M112 E32 has the balancer shaft. The cylinder block is aluminum, instead of heavy but reputable cast iron. The engine has aluminum cylinder heads with one camshaft in each head (SOHC) and 3 valves per cylinder (two intake valves and one exhaust valve). Likewise, this engine was geared up with variable valve timing system, hydraulic lifters/tappets, variable geometry intake manifold and timing chain.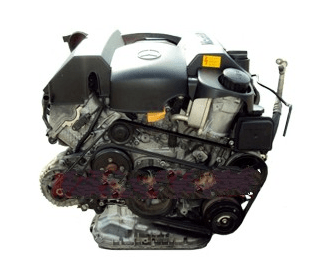 The next step in the development of V6 Mercedes engines became the M272 KE/DE 35 engine appeared in 2004.
M112 E32 3.2 l Engine Problems and Reliability
1. High oil consumption. The reason for the serious oil intake is frequently the wear of valve stem seals. The next version is infected ventilation of crankcase gases.
2. Oil leaks. The powerlessness in the M112 is the seal of the oil heat exchanger.
you must see more engine detail in here:  Engine – US Cars News or you can see on wiki here
Mercedes M112 3.2L Engine Specs
Manufacturer
Stuttgart-Bad Cannstatt Plant
Production years
1997-present day
Cylinder block material
Aluminum
Cylinder head material
Aluminum
Fuel type
Gasoline
Fuel system
Fuel Injection
Configuration
V
Number of cylinders
6
Valves per cylinder
3
Valvetrain layout
SOHC
Bore, mm
89.9
Stroke, mm
84.0
Displacement, cc
3199
Type of internal combustion engine
Four-stroke, naturally aspirated
Compression Ratio
10
Power, hp
190/5600
218/5700
224/5600
Torque, lb ft
199/2750
229/3000
232/3000
Engine weight
–
Firing order
1-4-3-6-2-5
Engine oil weight
0W-30, 0W-40, 5W-30, 5W-40, 5W-50, 10W-40, 10W-50, 15W-40, 15W-50
Engine oil capacity, liter
8.0
Oil change interval, mile
6,000
Applications
Mercedes-Benz C 320 W203, Mercedes-Benz CLK 320 C208, Mercedes-Benz CLK 320 C209, Mercedes-Benz E 320 W210, Mercedes-Benz E 320 W211, Mercedes-Benz ML 320 W163, Mercedes-Benz S 320 W220, Mercedes-Benz SL 320 R129, Mercedes-Benz SLK 320 R170, Mercedes-Benz Viano 3.0/Vito 119 W639, Mercedes-Benz Viano 3.2/Vito 122 W639
Mercedes M112 3.2L Modifications
M112.940 (1997 – 2003) – variation with power of 218 hp at 5700 rpm. This motor for Mercedes-Benz CLK 320 C208.
M112.941 (1997 – 2002) – for Mercedes-Benz E 320 W210. Power is 224 hp.
M112.942 (1997 – 2005) – M112.940 for Mercedes-Benz ML 320 W163.
M112.944 (1998 – 2002) – M112.941 for Mercedes-Benz S 320 W220.
M112.951 (2003 – present day) – variation for Mercedes-Benz Vito 119/Viano 3.0 W639, 190 hp.