Subaru FB25 2.5L Engine: Specs, Problems, Reliability.The FB-series is a totally new engine produced by Subaru. The 2.5-liter FB25 is a non-turbocharged boxer four-cylinder engines which related to substitute the EJ25 engine in Legacy and Forester models. The production of this engine started in 2010.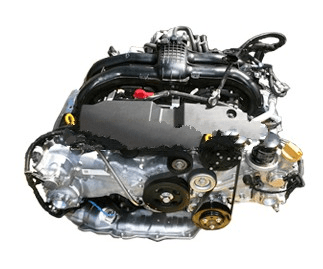 The engine teems with innovations and modern technologies like small size version – the FB20 engine. The FB25 is improved the FB20 aluminum cylinder block. For achieving the more significant displacement, there are 94 bore cast iron sleeves, but the stroke coincides. The thickness of cylinder walls is 3.5 mm. The FB25 engine got new pistons for reducing the friction inside the block and getting down the compression ratio to 10.0:1.
The aluminum FB heads contain two pieces – the cylinder head itself and the camshaft carrier. That allows a reduction in metal thickness and weight. The heads are DOHC with four valves per cylinder. There are roller rocker arms instead of lifters.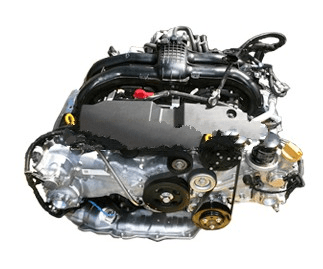 Both camshafts are equipped with variable valve timing system (Subaru dual AVCS). The fuel injectors were relocated to the cylinder heads also, and injection system became more complicated but more efficient. Intake and exhaust valves and ports have been modified for better airflow. The all FB25 engines have maintenance free timing chains. The exhaust system was tuned and got new manifolds and diameters of tubes to improve catalytic converter warm-up and to give more performance for the engine.
The engine was slightly decreased in 2014. The manufacturer reduced the thickness of cylinder walls to 3.2 mm and changed the pistons to increase the compression ratio to 10.3:1. The heads have been revised also. They got reshaped intake ports and new 36 mm intake valves. There are the new intake manifold and lightweight exhaust system.
The FB25 engine is more receptive at lower engine speeds compare to EJ25. It has the same power but lower rpm and increased torque at lower rpm. The fuel efficiency of the FB25 is a way better than the EJ25. These features make the new 2.5-liter Subaru engine is a suitable and preferable choice.
FB25 Engine Problems and Reliability
The FB25 has no concerns with high oil consumption instead of the FB20. The lifespan of the maintenance free timing chains and associated systems (slider, tensioner, etc.) is designed to be about the like the useful lifespan of the engine itself. The engine is reliable and excellent; lifespan concerns 200,000 miles.
Subaru FB25 2.5L Engine: Specs
Manufacturer
Gunma Oizumi Plant
Production years
2010-present day
Cylinder block material
Aluminum
Cylinder head material
Aluminum
Fuel type
Gasoline
Fuel system
Fuel injection
Configuration
Flat-4 (Boxer)
Number of cylinders
4
Valves per cylinder
4
Valvetrain layout
DOHC
Bore, mm
94.0
Stroke, mm
90.0
Displacement, cc
2498
Type of internal combustion engine
Four-stroke, naturally aspirated
Compression Ratio
10.0:1
10.3:1 – from 2014
Power, hp
170 hp (127 kW)/5,800
174 hp (130 kW)/5,800
Torque, lb ft
174 lb-ft (236 Nm)/ 4,100
173 lb-ft (235 Nm)/ 4,000
Engine weight
–
Firing order
1-2 3-4
Engine oil weight
API SM/SN (ILSAC GF-4 or GF-5) 0W20, 5W-30 or 5W-40
Engine oil capacity, liter
4.8
Oil change interval, mile
9,000 (15,000 km) or 12 month
Applications
Subaru Forester, Subaru Legacy