Subaru EZ30 3.0L Engine: Specs, Problems, Reliability. The Subaru started creation of 3.0-liter six-cylinder boxer engine the EZ30 in 1999 instead of the EG33 motor. It was designed and intended for installation in heavy vehicles of Subaru brand (SUVs, etc.). The engine was created entirely from square one.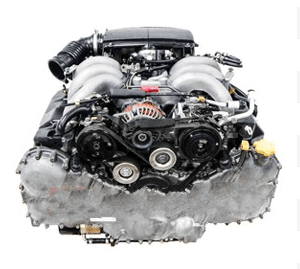 The cylinder block is made of aluminum. Block height is 202 mm. Cast iron sleeves are inside the block; the thickness of them is 2 mm. The length of connecting rods is 131.5 mm. Compression height of pistons is 30.3 mm. Two aluminum cylinder heads have two overhead camshafts (DOHC) and four valves per cylinder (exhaust/intake valve lift is 10.0/ 9.5 mm). There are two timing chains; each of them drives camshafts in one head. This engine has aluminum variable geometry intake manifold.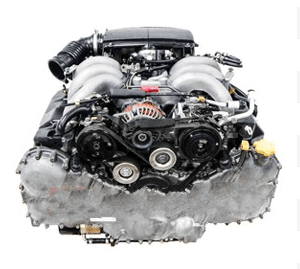 In 2003 the manufacturer redesigned this motor and called it EZ30D (EZ30R). The engine got new cylinder heads with variable valve timing system and valve AVCS vale lift AVLS on the intake. The valve lift depends on the engine revs (up to 2000 rpm, 2000-4000 rpm, 4000 rpm and more). The EZ30R engine has the electronic throttle (76 mm diameter), plastic intake manifold, MAF-sensor and new headers.
The EZ30 was presented until 2009. It was replaced by the 3.6-liter engine EZ36, which appeared in 2007.
EZ30 Engine Problems and Reliability
Overheating. Check out the condition of radiator and coolant level. It is better to replace the stock radiator with an aluminum high-performance product.
Timing chain noises. The problem resides in chain tensioner. It requires the changing chain tensioner and chains entirely.
High fuel consumption features the engine. Summarizing, the engine has proven itself as a good and reliable engine. The engine life is about 150,000-180,000 miles (250000-300000 km).
Subaru EZ30 3.0L Engine: Specs
Manufacturer
Gunma Oizumi Plant
Production years
1999-2009
Cylinder block material
Aluminum
Cylinder head material
Aluminum
Fuel type
Gasoline
Fuel system
Fuel injection
Configuration
Boxer (Flat-6)
Number of cylinders
6
Valves per cylinder
4
Valvetrain layout
DOHC
Bore, mm
89.5
Stroke, mm
80.0
Displacement, cc
2999
Type of internal combustion engine
Four-stroke, naturally aspirated
Compression Ratio
10.7
Power, hp
220/6000
245/6600 – EZ30D (EZ30R)
Torque, lb ft
213 (289 Nm)/4400
219 (297 Nm)/4200- EZ30D (EZ30R)
Engine weight
397 lbs (180 kg)
Firing order
1-6-3-2-5-4
Engine oil weight
0W-30, 5W-30, 5W-40, 10W-30, 10W-40
Engine oil capacity, liter
5.7
Oil change interval, mile
9,000
Applications
Subaru Legacy, Subaru Outback, Subaru Tribeca