VW/Audi 1.4 TSI/TFSI EA111 Engine Specs, Problems, Reliability. The 1.4 TSI/TFSI engine belongs to the EA111 series of turbocharged gasoline engines. The engine was introduced for the very first time at Frankfurt Motor Show in 2005 as an example of displacement downsizing direction of the VW's engine development. The main target for the small turbocharged engines was the replacement for 1.6 FSI and 2.0-liter FSI naturally aspirated engines without loosing in power and torque simultaneously offering more fuel efficiency and better emissions standards. The 1.4 TSI and 1.2 TSI engines are most common power unites for VW's hatchbacks Golf and Polo, and also for compact sedans Jetta.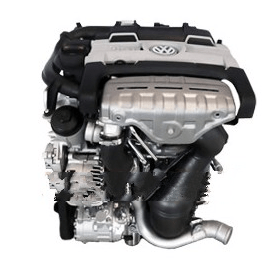 The 1.4 TSI EA111 engine has cast iron cylinder block with 82 mm (3.23 in) cylinder spacing. There is die-forged steel crankshaft on five main bearings. The engine has 16-valve (four valves per cylinder) aluminum cylinder head with intake and exhaust camshafts on top. The camshafts are driven by a roller timing chain designed for entire engine life. In reality, this chain will stretch out somewhere after 60k miles – long before the engine lifespan ends.
VW/Audi 1.4 TSI/TFSI EA111 Engine Specs, Problems, Reliability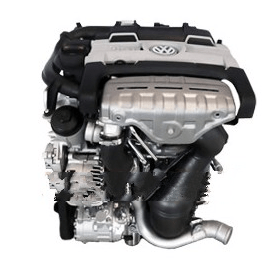 This variation also geared up with continuous adjusting variable intake valve timing system. The valves are actuated by roller finger cam followers outfitted with hydraulic tappets/lifters for valve clearance compensation. All 1.4 TSI engines have throttle body with electronically controlled Bosch "E-Gas" throttle valve.
The crucial part of the engine is the turbocharger. There are two different versions of the 1.4 TSI. The less-powerful edition furnished with one TD02 turbocharger produced maximum boost pressure 1.8 bars (26.1 psi) and water-cooled intercooler integrated into the intake manifold. The power range for those engines is between 122-131 hp (90-96 kW). The more powerful versions have belt-driven fifth-generation Eaton Roots-type supercharger aside from KKK K03 turbocharger. That combination eliminates the turbo lag appearance and produces significantly more power and torque.
The TFSI models have VW's Fuel Stratified Injection (FSI) system. The fuel delivery is offered by a low-pressure pump inside the fuel tank and camshaft-driven single-piston high-pressure injection pump supplied approximately 150 bars (2,180 psi) fuel pressure for the six-hole fuel injectors. The fuel is injected directly inside the combustion chamber of each cylinder. The NGK spark plugs are positioned in the center, between the intakes and exhaust valves. Each spark plug has an individual ignition coil. The engine operation is controlled by Bosch Motronic ME electronic engine control unit (ECU).
The EA111 1.4 l engine is the several time winner of the 'International Engine of the Year' award. Despite this fact, Volkswagen replaces this engine with a more technologically advanced 1.4 TSI of the EA211 series.
VW-Audi 1.4 TSI TFSI Engine Problems and Reliability
Timing chain and tensioner noise is the widespread issue for the 1.4 TSI engine. One of them (or both) needs in the substitute as soon as possible.
A car doesn't accelerate well. Very often, that is a problem with Wastegate in the turbocharger.
VW-AUDI 1.4 TSI engines don't warm up well and like to eat oil. That is a unique feature.
The 1.4 TSI engine with suitable maintenance can add to 200,000 miles with no issues or damages.
VW/Audi 1.4 TSI/TFSI EA111 Engine Modifications
CAXA – 122 hp (90kW), 148 lb-ft (200Nm) at 1,500-3,500 rpm. This is the popular 122-hp type of the 1.4-liter TSI engine with one turbocharger.
CAXC – 125 hp (92kW), 148 lb-ft (200Nm) at 1,500-4,000 rpm. The engine is for Audi A3, SEAT Leon.
CFBA – 131 hp (96kW), 160 lb-ft (220Nm) at 1,750-3,500 rpm. This type is for VW Jetta V, Golf Mk6, Passat B6, and Skoda Octavia Mk2.
BMY – 140 hp (103kW), 162 lb-ft (220Nm) at 1,750-5,000 rpm. The engine has mechanical supercharger and turbocharger generated pressure of 2.5 bar.
CAVF – 150 hp (110kW), 162 lb-ft (220Nm) at 1,250-4,500 rpm. The SEAT Ibiza FR has this variation.
BWK/CAVA – 150 hp (110kW), 177 lb-ft (240Nm) at 1,750-4,000 rpm. More torque engine for the VW Tiguan.
CDGA – 150 hp (110kW), 177 lb-ft (240Nm) at 1,750-4,000 rpm. Application: VW Touran, Passat B7 EcoFuel.
CAVD – 160 hp (118kW), 177 lb-ft (240Nm) at 1,750-4,500 rpm. Special edition for compact sedans and hot hatches like Golf Mk6, Scirocco Mk3, VW Jetta TSI Sport.
CAVE/CTHE – 179 hp (132kW), 184 lb-ft (250Nm) at 2,000-4,500 rpm. The absolute most powerful engine of the 1.4-liter series was designed for SEAT Ibiza Cupra, Polo GTI, Fabia RS, and Audi A1.
VW/Audi 1.4 TSI/TFSI EA111 Engine Specs
| | |
| --- | --- |
| Manufacturer | Mlada Boleslav Plant |
| Production years | 2005 |
| Cylinder block material | Cast Iron |
| Cylinder head material | Aluminum |
| Fuel type | Gasoline |
| Fuel system | Direct injection |
| Configuration | Inline |
| Number of cylinders | 4 |
| Valves per cylinder | 4 |
| Valvetrain layout | DOHC |
| Bore, mm | 76.5 |
| Stroke, mm | 75.6 |
| Displacement, cc | 1390 |
| Type of internal combustion engine | Four-stroke, turbocharged or turbochargered+superchargered |
| Compression Ratio | 10.0 |
| Power, hp | 122-180/5000-6200 |
| Torque, lb ft | 145-185 lb-ft/1,500-4,500 |
| Engine weight | – |
| Firing order | 1-3-4-2 |
| Engine oil weight | 5W-30, 5W-40 |
| Engine oil capacity, liter | 3.8 |
| Oil change interval, mile | 10,000 |
| Applications | VW Golf Mk5 Mk6, VW Touran, Audi A3, VW Scirocco, SEAT Leon, Skoda Octavia, VW Tiguan |