VW/Audi 1.2 TSI/TFSI EA111 Engine Specs, Problems, Reliability. The 1.2 R4 TSI/TFSI (EA111 family) is a 1.2-liter four-cylinder gasoline turbocharged engine firstly announced for VW Golf Mk6 and Polo Mk5 in late 2005. This engine partly changed the same displacement naturally aspirated version of the EA111 series but with three cylinders – the 1.2 R3 EA111 engine. The 1.2 l TSI version is based on the 1.4 TSI/TSFI engine design.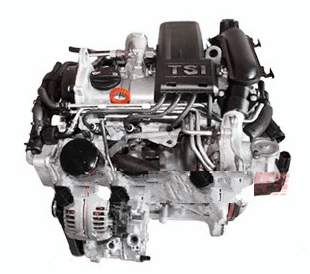 As opposed to grey cast iron engine block which the 1.4-liter version had, the 1.2 TSI/TSFI has an aluminum cylinder block with cast iron sleeves (liners). The bore size was reduced from 76.5 mm to 71.0 mm but it kept the same stroke (75.6 mm). The bottom end also received new die-forged steel crankshaft and cast aluminum alloy pistons. All moving components became lighter.
VW/Audi 1.2 TSI/TFSI EA111 Engine Specs, Problems, Reliability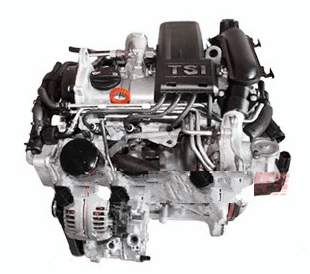 Atop the engine block there is an aluminum alloy cylinder head. It has two valves per cylinder (eight valves total) and single overhead camshaft (SOHC layout). That is a real task for small displacement engines to make them more pleasurable for a driving due to torque lacking. In this case, 2-valve heads provide more torque at low and mid-range of rpm. The intake valve diameter is the 35.5 mm; the exhaust valve diameter – 30.0 mm. The engine has a non-serviceable timing chain. The valves are actuated by roller finger cam followers with hydraulic tappets (no valve clearance adjustment needed).
The engine equipped with the IHI 1634 turbocharger. The max boost is 1.6 bars (23.2 psi). The compressed air is cooled by water-cooled intercooler integrated into intake manifold. There is also electronically controlled Bosch "E-Gas" throttle valve. The engine has the Fuel Stratified Injection (FSI) system. The camshaft-driven high-pressure injection pump supplies fuel with pressure 150 bars (2,180 psi). The sequential fuel injectors inject fuel directly into combustion chambers. The ignition system is fully electronic; each spark plug operates with its individual spark coil. The electronic engine control unit (ECU) for 1.2 TSI/TSFI engine is the Siemens Simos 10.
The 1.2 R4 TSI/TFSI engine is 24.5 kg lighter the 1.4 l TSI, has good power and torque for a small city car. The main target (changing olden 1.6 l engines) was accomplished using modern fuel injection system combined with a turbocharged intake. In 2015, the new 1.2 TSI?? 211 engine came on the production lines, but the predecessor was being produced until 2017.
VW/Audi 1.2 TSI/TFSI EA111 Engine Problems and Reliability
The most common issue is a stretched timing chain and timing chain tensioner failure. That can happen on a relatively small mileage – between 40,000-60,000 miles (60,000-100,000 km). The engine produces a considerable amount of vibrations – this is a normal cold engine operation! Also if you live in a cold climate it is crucial to know what the engine warms up only under a load (turn the key and drive without time for warm up the engine course it takes forever).
The engine needed high-quality fuel (95 RON ultra-low sulfur unleaded petrol (ULSP)) and engine oil. The engine reliability also depends on the driving style of owners and how timely maintenance was. The average lifespan of the 1.2 TSI engine is 150,000 miles (250,000 km).
VW/Audi 1.2 TSI/TFSI EA111 Engine Modifications
CBZA – 86hp (63 kW)/ 4,800 rpm; 118 lb-ft (160Nm)/ 1,500-3,500 rpm. This is the weakest version. May be found inside Volkswagen Golf Mk6 and Audi A1.
CBZC – 90hp (66 kW)/ 4,800 rpm; 118 lb-ft (160Nm)/ 1,500-3,500 rpm – Volkswagen Polo Mk5 1.2 TSI engine.
CBZB – 105hp (77 kW)/ 4,800 rpm; 129 lb-ft (175Nm)/ 1,550-4,100 rpm. One of the most powerful engine is for the SEAT Ibiza.
VW/Audi 1.2 TSI/TFSI EA111 Engine Specs
Manufacturer
Skoda Auto plant, Mlada Boleslav
Production years
2005-2017
Cylinder block material
Aluminum
Cylinder head material
Aluminum
Fuel type
Gasoline
Fuel system
Direct injection (Fuel Stratified Injection)
Configuration
Inline
Number of cylinders
4
Valves per cylinder
2
Valvetrain layout
SOHC
Bore, mm
71.0 mm (2.80 in)
Stroke, mm
75.6 mm (2.98 in)
Displacement, cc
1,197 cc (73.0 cu in)
Type of internal combustion engine
Four-stroke, turbocharged
Compression Ratio
10.5:1
Power, hp
86-105 hp (63-77kW)/ 4,500-5,000
Torque, lb ft
118-129 lb-ft (160-175 Nm)/ 3,500-4,100
Engine weight
–
Firing order
1-3-4-2
Engine oil weight
SAE 5W-30, 5W-40. VW504 00 or VW502 00
Engine oil capacity, liter
3.6 – up to 05.2011;
3.9 – since 06.2011
Oil change interval, mile
12,000 (20,000 km)/12 months
Applications
Volkswagen Beetle (A5), Volkswagen Polo Mk5, Volkswagen Golf Mk6, Volkswagen Caddy, SEAT Ibiza, SEAT Leon (1P), SEAT Altea, SEAT Altea XL, SEAT Toledo(KG), Skoda Octavia, Skoda Yeti, Skoda Fabia, Audi A1, Skoda Rapid (NH)